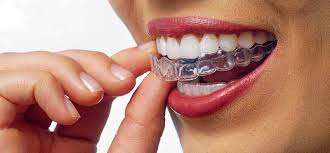 Invisalign is more or less invisible aligners that are designed to move your teeth in small increments until they are in the position that is optimally esthetic and functional. Each aligner is precisely manufactured and calibrated to fit your mouth at each stage of treatment.
The first step is to visit Queen's Park Dental, so that our team can determine whether Invisalign is the right treatment choice for you.
Each set of aligners is worn for approximately two weeks, only to be removed for eating, brushing and flossing. As you replace each set of aligners with the next, your teeth will move slightly, until the final optimal result is attained. You can now smile with confidence.
If you would like to learn more about Invisalign and how it works, please visit the Invisalign website Invisalign Clear Aligners | Invisalign