Your Invisalign

®

Journey Begins at Queen's Park Dental
Your Invisalign® Journey in New Westminster begins at Queen's Park Dental, where you will meet with your dentist to get a preview of your new smile! The cost of Invisalign® is similar to metal braces, however, this is where the similarity ends. 
Consisting of clear aligners or trays, your Invisalign® Journey allows for normal eating, brushing, and flossing. Each aligner is worn for around one week and replaced with the next, moving your teeth incrementally towards the smile of your dreams!
Read on for a deep dive into the full Invisalign® Process, starting with Invisalign® Journey Step 1: iTero Element® Scanner.
At Queen's Park Dental, our all inclusive Invisalign

®

in New Westminster includes:
Consultation

Photos

X-Rays

All Visit Checks

Digital iTero scan

One set of retainers

Any necessary corrections
Schedule your Video Consultation today to see if you qualify for Invisalign

®

.

Invisalign

®

Journey Step 1: iTero Element® Scanner
Gone are the days of goop-filled impression trays!
Using the iTero Element® scanner, a 3D digital scan of your teeth is quickly and accurately produced. The iTero scanner and the data points it collects make Invisalign® the most accurate and highly rated clear aligner system on the market. 
Check out the video to learn more about the technological advantage Invisalign® provides:
Invisalign® uses sophisticated, state-of-the-art technology to provide the best predictability of any clear aligner system on the market. The Invisalign® process achieves this by accumulating data points from over 8 million smiles. Patented materials move your teeth more precisely and comfortably than ordinary aligners. 
Your treatment plan is custom-created for your individual needs and is based on your doctor's prescription and consultation. The comparative data point analysis gives you the best straightening treatment available. Results are attained within about 8-10 months, but every patient is unique. Your treatment could run longer or shorter than estimated. 
It takes 2-3 weeks for your first set of aligners to arrive at our dental practice in New Westminster. When you come in to pick up your new aligners at Queen's Park Dental, that's when your Invisalign® Journey truly begins!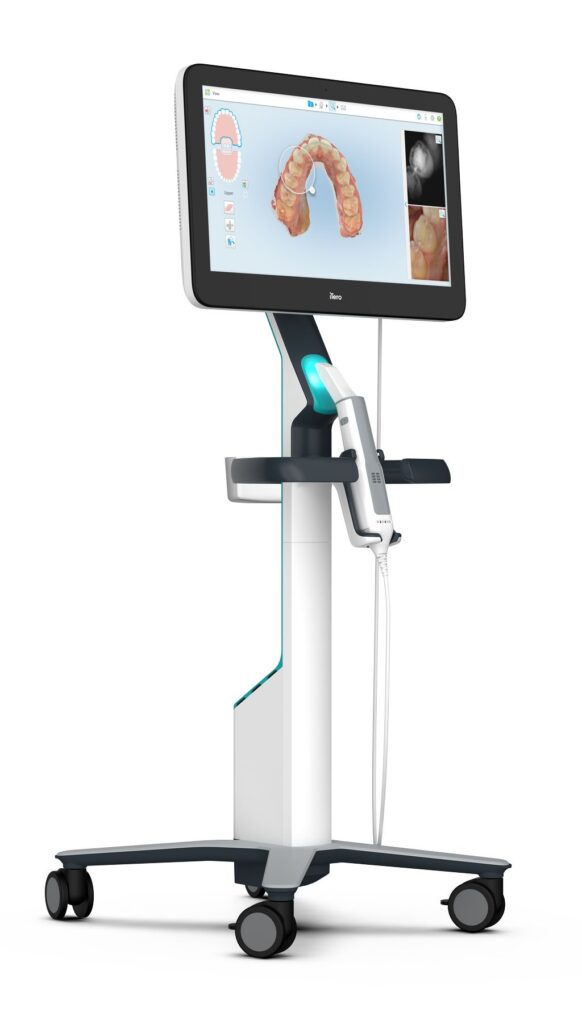 Invisalign

®

Journey Step 2: Clear Aligners
The Invisalign

®

process requires you to wear your aligners 23 hours a day.
When you remove Invisalign® clear aligners, you can enjoy eating, brushing, flossing, and smiling for photos without the hassle of wires and brackets. 
Some patients require tooth-coloured 'buttons' on their teeth for the duration of their Invisalign® Journey. These buttons help to hold the aligners comfortably in place, assisting with correcting misalignment. When you are ready for your retainer to preserve your new smile, the buttons will be removed.
Making Adjustments During Your Invisalign

®

Journey
Every patient's Invisalign® Journey differs. With data sets from more than 8 million smiles, the Invisalign® process makes highly accurate recommendations. Along the way, some patients will be required to visit our dental practice in New Westminster to make minor adjustments to their treatment plan. Incremental adjustments like this allow your new smile to take form smoothly. 
Invisalign

®

and IPR
A common example of an Invisalign® adjustment is IPR or interproximal reduction. IPR is the removal of enamel between teeth to make space for adjacent teeth to move in a more functional and esthetic way. We prefer this method over removing teeth to make space for tooth movement. As Invisalign® adjusts your smile, the option to gain space by modifying the enamel with slenderizing techniques becomes viable. This won't be necessary for all patients, as each smile is unique. 
Image source: https://www.newswire.com/news/facts-about-interproximal-reduction-ipr-from-the-sacramento-dentistry-20084701
Invisalign

®

Checkups
If regular visits to our family dental practice in New West is not convenient for you, we understand! In some cases, it is possible to schedule virtual appointments with a dentist. These are great for quick questions or for patients who live outside of New Westminster. 
We will need to see you eventually, though! Within 6 weeks of beginning your Invisalign® Journey, it is a good idea to come into Queen's Park Dental for a checkup to make sure everything is going well with the Invisalign® process.
INVISALIGN

®

JOURNEY STEP 3: RETAINER
Complete Your Invisalign

®

Process in New West at Queen's Park Dental
Within about 8-10 months, your treatment will more than likely be coming to an end. The great thing about Invisalign® is that you will have been previewing your smile in real-time throughout the process, so it won't be much of a surprise!
When the aligner portion of your Invisalign® Journey has come to an end, it is time to wrap up the treatment with a retainer. We'll have you visit us in New Westminster at Queen's Park Dental to remove the tooth-coloured 'buttons' and polish your amazing new smile! And we will also give you one set of retainers to ensure your style stays amazing!
Wear Your Invisalign

®

Retainer to Prevent Zombie Teeth!
Many Invisalign® users went through the braces experienced years ago. And they know exactly what happens when you don't wear your retainer: Zombie teeth. 
This is a playful term describing the slow stagger of teeth back to their crooked positions in the absence of a retainer. You absolutely must wear your retainer, or you risk undoing the entire Invisalign® treatment.
Right after your treatment, you will wear your retainer for 3 months, 23 hours a day, just like an Invisalign® aligner. When this time has passed, you will only need to wear it at night. 
Your Invisalign® retainer is essential for preserving your dream smile. Get it replaced every two years at a minimum. Patients with bruxism or TMJ may need replacements more regularly.